Social Housing Anti Racism Pledge (SHARP)
Pledging towards a social housing sector that has Zero Tolerance towards racism
What is SHARP?
The Social Housing Anti Racism Pledge (SHARP) provides a collective framework for Housing Organisations to commit to taking the necessary action, set the necessary targets, communicate and engage with their stakeholders to develop an inclusive culture, whilst working with others within the social housing sector, to identify best practice to actively combat racism. Signatories must commit to working their supply chains, staff, residents and service users, to promote an inclusive operational culture where people are comfortable talking about race.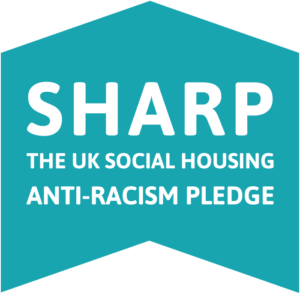 Why was the pledge created?
Originally developed by BME London Landlords to encourage social housing organisations to come together to recognise that those who experience racism, experience it differently, and that as organisations who operate as change makers and place shapers the social housing sector has to set the highest standards which includes listening and learning from a wide variety of voices as we seek to become zero tolerant anti-racist organisations in our practice and processes to set a clear examples that can impact and influence society.
Why sign up to the pledge?
Housing associations need to maintain a zero-tolerance stance on racial discrimination as per the Equality Act 2010, and ensure that the organisation's employees, partners, suppliers, and the broader public are aware of this stance.
Discover more about our pledge
Six Principles to inform Anti-racism strategy
Use our six principles to help you with developing your strategy or action plan.
See more information
Joining SHARP
Discover how you can begin your SHARP journey and sign up to the Pledge.
See more information
Resources to understand racism
Discover our range of recommended books, podcasts and videos to broaden your understanding of racism.
Discover resources