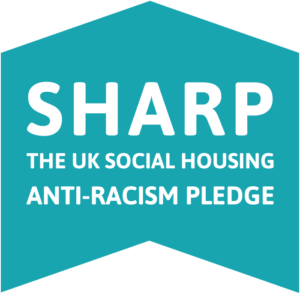 What is SHARP?
The Social Housing Anti Racism Pledge (SHARP) provides a collective framework for Housing Organisations to commit to taking the necessary action, set the necessary targets, communicate and engage with their stakeholders to develop an inclusive culture, whilst working with others within the social housing sector, to identify best practice to actively combat racism. Signatories must commit to working their supply chains, staff, residents and service users, to promote an inclusive operational culture where people are comfortable talking about race.
Discover more about our pledge
Six Principles to inform Anti-racism strategy
Use our six principles to help you with developing your strategy or action plan.
See more
Joining SHARP
Discover how you can begin your SHARP journey and sign up to the Pledge.
See more information
Resources to understand racism
Discover our range of recommended books, podcasts and videos to broaden your understanding of racism.
Discover resources